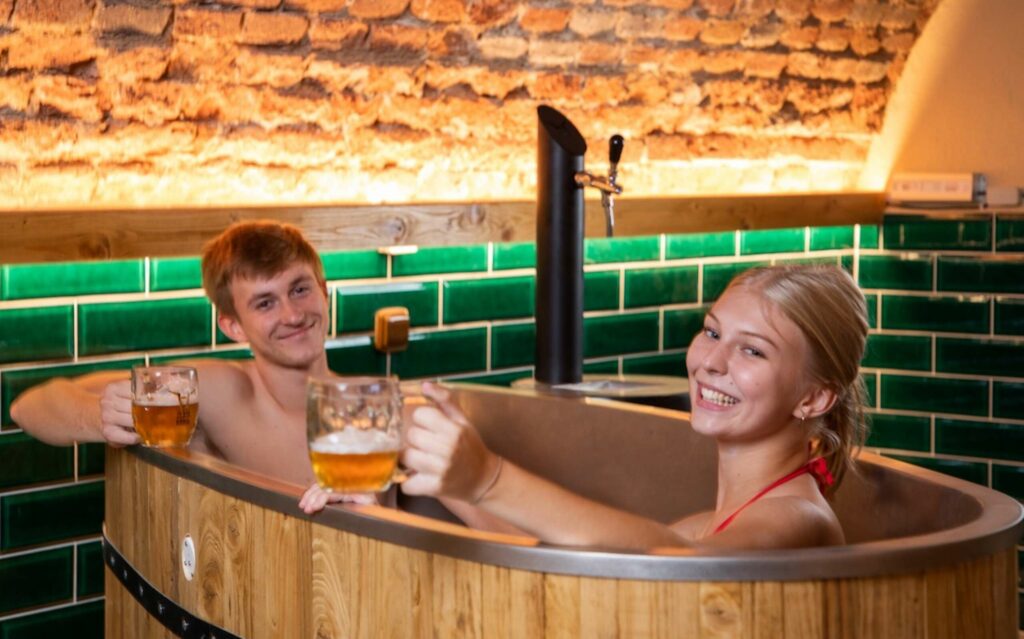 Beer spa
Beneficial effects of a beer bath
---
The beer bath is based on bathing in natural extracts from which beer is brewed - hops, brewer's yeast and malt. The high content of hop essential oils contributes to the relaxation of skin pores and overall revitalization. Brewer's yeast, thanks to its high content of vitamin B and active enzymes, has a beneficial effect on skin regeneration. Thanks to this unique combination of natural ingredients, metabolism is stimulated during the bath, harmful substances are flushed out of the body, internal and external tension, fatigue and stress are relieved, and thus a perfect mental and physical rest is achieved.
PRICE:
beer bath for 1 person = 890 CZK
beer bath for 2 persons = 1490 CZK
The beer bath, which lasts 60 minutes, can be enjoyed by up to 8 people at a time in four baths for two people. The baths take place in four private rooms, where in addition to the bath there is a relaxing lounger and its own tap with Zlatá kraáva beer. For groups, the rooms can be adapted into one large room. The beer baths have an unmistakable atmosphere in the old vaulted cellars that were historically part of the brewery.
You can book the spa by phone at +420 724 901 874 or by e-mail info@hotelnepomuk.cz